Jefferson Davis
This is an article about Jefferson Davis.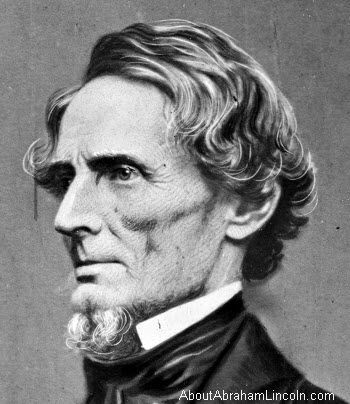 Jefferson Davis, statesman and President of the Confederate States of America, born in Todd (formerly Christian) County, Kentucky, June 3, 1808; died Dec. 6, 1889.
Davis studied at Transylvania College, Kentucky, and was ap- pointed cadet at West Point by President Monroe in 1824, where he studied four years.
After graduation, Davis held a commission for seven years as lieutenant, and rendered valuable support in the Black Hawk War. He resigned from the military service and married a daughter of General Taylor, after which he settled as a cotton planter near Vicksburg, Mississippi.
He was elected as a Democrat in 1844 to serve in the electoral college that balloted on Polk for the Presidency. In 1845 he became a representative of his district in Congress, but resigned his seat the following year on account of the Mexican War, having been chosen colonel of a Mississippi regiment of volunteers. Davis served with gallantry in the battles of Monterey and Buena Vista, but was wounded in the latter. He returned home at the close of the war, and was at once appointed to fill a vacancy in the United States Senate, which was soon after approved by the Legislature and, in addition, he was named for a full term. Franklin Pierce appointed him Secretary of War in 1853, and in 1857 he was again elected to the Senate, becoming at once the leader of the Democratic party. He resigned his seat in the Senate when Mississippi seceded from the Union, on Jan. 9, 1861, and was given command of the military forces of his State.
When the Confederate States organized an independent government, on Feb. 18, 1861, Jefferson Davis was appointed President by the provisional convention at Montgomery, Alabama. He promptly formed a Cabinet and issued a message, in which he commended the attack on Fort Sumter and deprecated President Lincoln's call for volunteers, stating "all we ask is to be let alone."
The history of Davis's Presidency is the story of the war. The contest began shortly after he assumed office and closed immediately after he left Richmond.
Jefferson Davis was elected President of the Confederate States of America for a term of six years on Feb. 22, 1862. Throughout the terrible struggle his was the guiding hand, and upon his careful administration depended the intensity of the contest. In a message dated March 13, 1865, he confessed that the situation had grown grave, but he still held out hope that there were ample means for securing a successful termination. Twenty days after issuing this message he left Richmond, and Lee surrendered to Grant April 9, 1865. Davis proceeded to Danville and later to Greensboro, N. C., where he met Generals Johnston and Beauregard in a conference, and soon after left for Charlotte.
He was captured by a company of Union soldiers under Colonel Prichard at Irwinville, Ga., on May 10, while attempting to escape arrest. Subsequently he was confined at Fortress Monroe for two years, during which time the authorities at Washington were deciding what should be done with him, and in 1866 he was indicted for treason. He was admitted to bail on March 3, 1867, but was never brought to trial.
The general amnesty issued in December, 1868, included Jefferson Davis, but he refused to take the necessary steps to have his political disabilities removed. Later he declared himself still in favor of states' rights and that he would not accept the situation. Davis was a forceful speaker, possessing exceptional executive ability and force of character. He spent the last ten years of his life in Beauvoir, near Biloxi, Miss., and prepared a work in two volumes, entitled "The Rise and Fall of the Confederate Government." His remains were buried at New Orleans, but were removed to Richmond, Va., in 1893, where a monument was erected to his memory.