John Wilkes Booth
This is an article about John Wilkes Booth.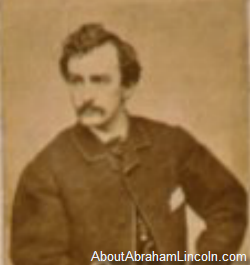 John Wilkes Booth, actor and assassin of President Lincoln, brother of Edwin Thomas Booth, born in Hartford County, Maryland, in 1838. As an actor he never became celebrated owing to a touch of insanity inherited from his father, and he was nervous and erratic. He was an ardent supporter of the institution of slavery, and while playing at Ford's Theater, Washington, on April 15, 1865, shot President Lincoln, who occupied a private box.
In an attempt to escape Booth broke a leg, but passed through a back door and mounted a horse held in waiting, on which he fled to Virginia. Booth was concealed in a barn near Bowling Green, Va., where he was discovered and shot by Sergeant Boston Corbett, April 26, 1865.
State and Federal authorities offered rewards for Booth's capture totalling over 200,000 dollars, an unheard of fortune at the time.
See also the gallery of photographs pertaining to the assassination of Abraham Lincoln.