Tad Lincoln
This is a photo archive with many photographs Tad Lincoln, the fourth son of President Lincoln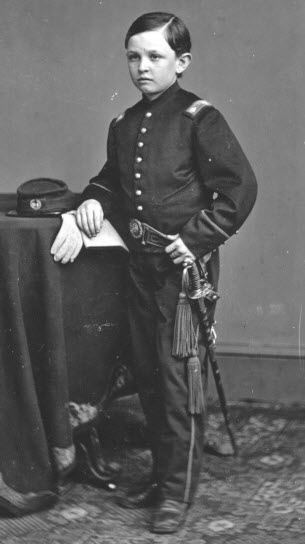 Tad Lincoln was the youngest of the four children of Abraham and Mary Todd Lincoln. He was born on April 4, 1853 and died on July 15, 1871 at the age of 18. His real name was "Thomas" but his father nicknamed him "Tad" because the boy reminded him of a tadpole when he was born: he had an oversized head an a tiny wriggly body.
Tad had a short, tragic life. He was delayed intellectually and had a partial cleft palate which caused him to speak with a lisp. During his time at the White House, Tad was tutored by excellent teachers but he was undisciplined and his tutors often quit in disgust of his antics and reluctance to learn. By the age of 13, Tad was still illiterate.
His father doted on Tad and tolerated his antics which often consisted of pulling pranks and causing havoc among the White House staff and visiting dignitaries. Tad loved to play war games with his father in the White House and Secretary of War Edwin Stanton gave Tad a pretend military commission, so the boy could wear a military uniform. Tad loved to strut around in his little officer's uniform, but he did not have the discipline of a soldier.
The night that his father was shot, Tad was attending a children's play at a different theater. He heard the news of the assassination and rushed back to his father's death bed but it was too late. Tad was only 12 years old when his father was killed. His mother tried her best to console him, but he was devastated.
Later, when his mother left for Europe in a self imposed exile, he accompanied her and went to school at a prestigious boarding school in Germany, but it is not known if he was ever able to overcome his learning delays. People called him "Stuttering Tad" because of his speech impediment. He is not known to have ever had any close friends.
In 1871 Tad became ill. His mother brought him back to the United States but he died very shortly after they returned. The official cause of death was "dropsy of the heart," which today would probably be diagnosed as congestive heart failure. Tad was just 18 years old when he died.
See also photo galleries of: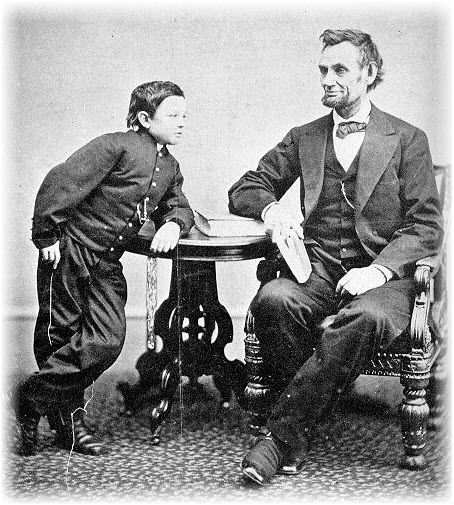 Tad Lincoln With Abraham Lincoln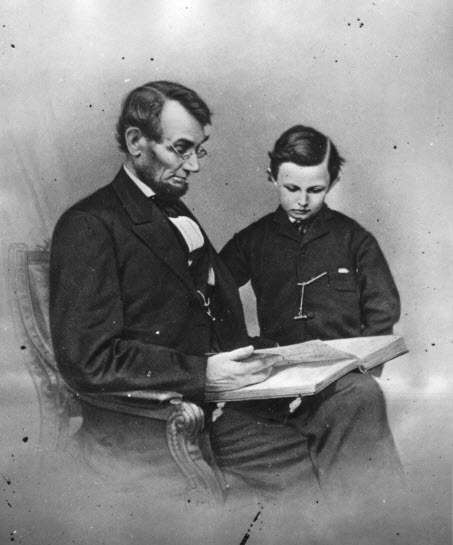 Abraham Lincoln Reading to Tad.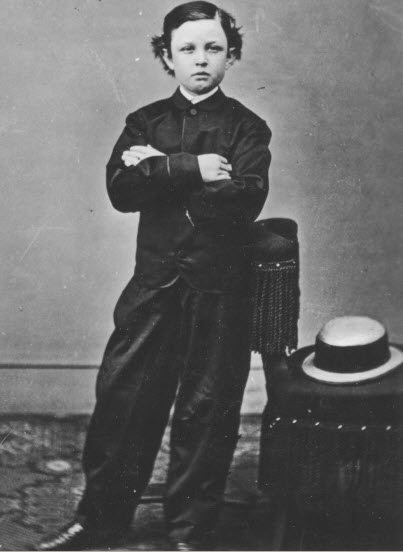 A Portrait of Tad.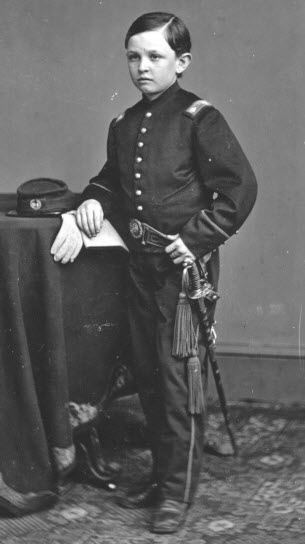 Tad Lincoln in Military Uniform, holding a saber
---