Mary Todd Lincoln
This is an article about Mary Todd Lincoln, First Lady and Wife of Abraham Lincoln.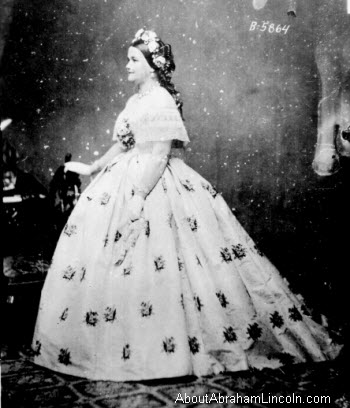 Mary Ann Lincoln (nee Todd) (December 13, 1818 - July 16, 1882) was the wife of Abraham Lincoln, the 16th President of the United States, and First Lady of the United States from 1861 to 1865.
She married Abraham Lincoln on November 4, 1842, she was 23 and he was 33. Together the Lincolns had 4 children, only two of whom, Robert Todd Lincoln and Thomas Lincoln (known as "Tad") survived to adulthood. As a young wife, Mary Todd Lincoln was left to raise the children by herself while her husband traveled from one prairie town to the next as a circuit court lawyer.
When Lincoln was elected President she followed him to Washington. Although Mary Todd had been part of the established gentry in her home community of Springfield, Illinois, she did not fit in in the capital. Her manners were considered by many to be ill-bred and pretentious, and she often suffered from irrational outbursts which embarrassed her husband. She was however a devoted mother and a strong supporter of her husband's efforts to preserve the Union.
On April 14, 1865, Mary Todd Lincoln was sitting next to her husband in a box seat at Ford's Theatre, watching a performance of Our American Cousin, when her husband was fatally shot by John Wilkes Booth, an actor and Southern sympathizer. After her husband's death, Mary Todd's mental health deteriorated. She began hallucinating and once threatened to jump out of a window to escape an imaginary fire. Eventually she was committed to an insane asylum by her son, Robert Todd Lincoln, who also assumed control of her finances.
However, Mary Todd Lincoln was able to secure her release from the insane asylum with the assistance of friends, and by writing letters to newspapers. Wishing to avoid negative publicity, the director of the asylum declared her well enough to leave the institution and she eventually returned to Illinois, after spending some time abroad in Europe. Her son's efforts to institutionalize her and take over her financial affairs led to an estrangement between Mary Todd and her son Robert. During the early 1880s, Mary Lincoln lived, housebound, in the Springfield, Illinois residence of her sister Elizabeth Edwards, where she died at the age of 63. She is buried alongside her husband at the Lincoln Tomb in Oak Ridge Cemetery in Springfield.
See also the gallery of Mary Todd Lincoln photos.