The Civil War
This is an article about The Civil War.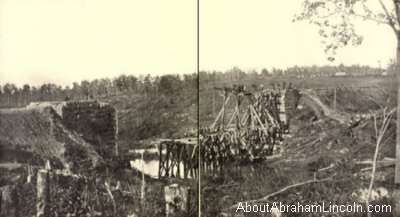 Meanwhile, the Army of the Potomac, under immediate command of Meade, undertook the campaign of the Wilderness to force the ultimate evacuation of Richmond. The Battle of the Wilderness, near the Rapidan, was fought in May without either side gaining a victory. This was followed by the Battle of Spottsylvania Court House, the engagement at the North Anna River, and the repulse of the Union forces at Cold Harbor.
Grant now crossed the Chickahominy and was met by the Confederate army under General Lee at Petersburg, where he conducted a protracted siege. Gen. Early moved rapidly across the Potomac and won several successes, including that of the Monocacy, and then withdrew into the Shenandoah Valley, where he was defeated near Winchester by Sheridan and later was routed at Cedar Creek. In June of the same year the Confederate cruiser Alabama was sunk off Cherbourg, France, by the Kearsarge and Farragut defeated the Confederate squadron in Mobile Bay.