The Civil War
This is an article about The Civil War.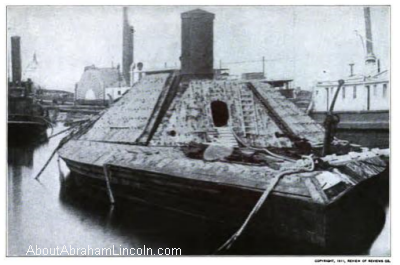 On the right is a Photograph of an Armoured Confederate Ram Ship,
which the South hoped could counter the Union naval superiority
and break the blockade of its ports.
In February, 1865, Sherman left Savannah and marched through South Carolina, where he took possession of Columbia and Charleston, and pushed northward into North Carolina. Johnston undertook to check Sherman at Bentonville, though met with defeat in this design.
Lee made an attempt on March 25th to break through the Union line at the Appomattox River and captured Fort Stedman, but this was retaken by the Federals. Sheridan defeated the Confederates at Five Forks on March 31, thus exposing the connection of Lee with Richmond, and on April 2 Grant made an attack on the whole line at Petersburg. Richmond was immediately abandoned and Lee retreated to Lynchburg, where he was intercepted by Sheridan and surrendered his army to Grant at Appomattox Court House on April 9, while Johnston surrendered on the 25th.
The last Confederate armed forces were surrendered by Kirby Smith on May 26. Jefferson Davis, President of the Confederate States, was captured on May 10 and confined at Fortress Monroe.
At the time of the final victory, on April 14, President Lincoln was assassinated by John Wilkes Booth.
The Civil War, from April 12, 1861, when Fort Sumter was bombarded, to May 26, 1865, when the Trans-Mississippi army surrendered, covered a period of about four years.
The Confederates had about 500,000 men and lost 95,000 in killed and wounded, while the Union had 2,666,999 men and lost 359,258. It is not certain what number of Confederates were killed by accident or disease, but it is estimated that the total is nearly 200,000.